The Four Natural Laws of Healthy Living!
Learn the Natural Laws passed along for 3000 years in cultures where aging was honored and respected.  What "rules" does a wise elder follow, that leads to longevity, vitality, and wisdom!?  Sign up below to get instant access to this webinar, PLUS Dr. Stone's 3 favorite movement progressions, and a free copy of Dr. Stone's book!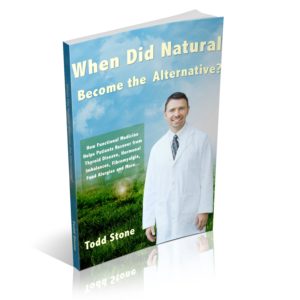 Welcome to True Health and Natural Healing! 
If you are doing "ok" but feeling your age, or not so ok, and you want to resolve chronic symptoms and "age gracefully" CLICK HERE to learn about our "Metabolic Tune-Up!.
The "average American" lives 78 years and the last 11 years s/he is at least partially disabled, unable to perform normal activities of daily living on their own!  Ouch!  That is the consequence of not following Natural Laws!  You will learn to follow Natural Law in our coaching programs.  I share some of them in this webinar!
If you'd like to learn more about functional medicine, click to our conditions page to watch a five minute video teaching what every healing science has to offer each condition or symptom, how they diagnose, and their unique approach to healing.  If you need inspiration or hope, read our case studies.  Actual patients… the most complex and complicated cases over 20 years of practice, discovering True Health and recovering True Health!!
Functional Medicine is the fastest and easiest way to increase your health and function, get back your younger body, and look and feel your best, at any age!
Discover TRUE HEALTH!
True Health is a Functional Medicine / Eastern Medicine clinic, which means we find the root cause of your problem, body, mind, and spirit, and we treat the cause of your suffering with counsel, guidance, acupressure and plant medicines to shift body, mind, and spirit toward healing.
True Health is a state of optimal physical, mental, and spiritual wellbeing!
We are here to help YOU find True Health!  Are you ready?
Get to know True Health better.
If you're a "do it yourself" kind of person, click here to get the exact medicines we use in our clinic, delivered right to your door.  We have safe and effective herbal medicines for PMS, Menopause, Cold/Flu, Focus and Memory, Insomnia, Depression, Anxiety, Stress Resilience, and more!
But be smart, if it's not a simple case of insomnia, or whatever, then you need diagnostics!  Get a Metabolic Tune-Up!
If you'd like to support our Mission to advance Nature and Natural Healing, you can donate to True Health.  You're donation will support the financial wellbeing of True Health and keep this mission alive.
Thank YOU!
Dr.ToddStone
DrStone
Entered by customer