Welcome! You are about to join the leading edge of healing and become one of our many success stories.
For 25+ years, Dr. Stone has been researching and practicing the best methods of root cause diagnosis and treatment. You are one step away from discovering your root cause, and the best methods to remedy or resolve that cause.  That step is our New Patient evaluation!
Step 1: Read About Dr.Stone and how we evaluate and treat patients.  If you prefer Natural whenever possible, and are open to looking carefully at YOU, body, mind and spirit, you are a perfect fit!
Step 2: Watch this 30 minute video about virtual health coaching.  If it feels like a good fit for you, click the button that says "Get Your Metabolic Tune-Up" and complete your order.  You will receive your lab requisition form by email, typically the same day.
Click here to fill out our New Patient Intake Forms.  We are currently only seeing patients "virtually" so our communication will be by phone, email, or messaging.  If you have any questions or symptoms that aren't improving, we can schedule a zoom session or phone call.
Step 3: Your New Patient Evaluation  
Once I receive your lab results, I will complete an assessment and send you your results and lab report of my assessment with the strategies to resolve your symptoms and achieve a healing trend, which means that every week you are feeling and functioning better!
When you sign up for coaching, you will get a daily email with instructions for using the membership site to access acupressure protocols and exercise progressions or physical rehab.
Your meds are included in the coaching fee, and will ship the day I email you your report.
Every month we will update your medicines to focus on whatever symptoms are remaining, or if symptoms are relieved, we'll focus on optimizing your metabolism and stress resilience!
________________________________________________
(I'm going to leave the rest of this page here, in hopes we will be "live" again soon!  But all you need right now is above!!)
What to expect at your initial evaluation

Please plan to be in our office approximately an hour. During your appointment, Dr. Stone will review your history/symptoms with you.  Next, he will test your central nervous system using Applied Kinesiology (AK).  Many people do not realize that AK or manual muscle testing (MMT) is a nervous system exam, not a strength assessment.  Dr. Stone will pinpoint your specific imbalances and find exactly what you need to heal.  You will be amazed at how your muscles respond to both stress factors and therapeutic interventions!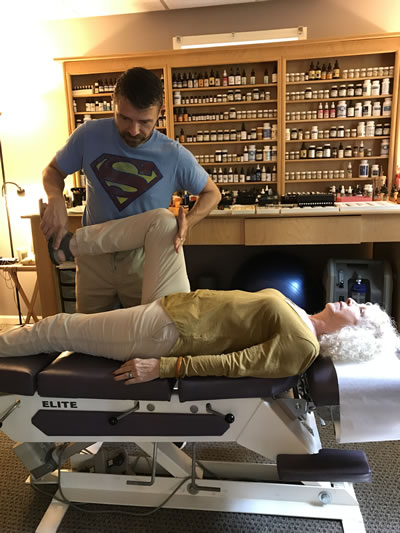 After your initial exam, we will schedule your follow up appointment for a week or two out, to check back how you are responding.  If you are traveling over an hour each direction, please let me know when you schedule, and what your ability to follow up looks like.
We look forward to meeting you soon!
Dr. Stone is a "Healer Type," certified in Integrated Natural Medicine and Applied Kinesiology, and Functional Diagnostic Medicine… This clinic does not treat named medical conditions, rather we treat each individual towards health.