St John's wort: Scientific Evidence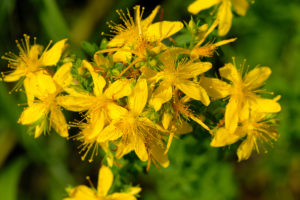 Randomized Clinical Trials (RCTs) are considered the highest form of scientific evidence.  A group of people with the same condition are divided into two groups, and randomly assigned to receive the medicine or a placebo.  Neither the patient nor the doctors know which group they are in until the results are assessed.
The following are RCTs in the National Library of Medicine listed when you search "St Johns Wort Randomized Clinical Trial."
Complement Ther Med Aug 2019.  Conclusion: Treatment with Hypericum perforatum is an efficient way of reducing hot flashes, menopausal symptoms, and depression in postmenopausal women. (1)
Climacteric Aug 2019.  In conclusion, with its positive benefit-risk profile, Black Cohosh and St Johns Wort may offer a safe non-hormonal therapeutic option for breast cancer survivors receiving endocrine therapy. (2)
J Psychopharmacol Feb 2019.  Results: St John's wort treatment produced similar changes to other antidepressants, without side effects, for example reducing recognition of disgusted faces and attention to fearful faces, while increasing memory for positive words. (3)
Psychopharmacol (Berl) Feb 2019.  Conclusions: The results indicate that acute treatment with small (250 mg) dosages of H. perforatum has a positive effect on the capacity of short-term verbal memory. (4)
Psychopharmacol (Berl) Jan 2018.  Conclusions: Our findings suggest that a single oral dose of HYP extract modulates cortical plasticity in healthy subjects and provide new insight into its possible mechanism of action in humans. (5)
Phytotherapy Res Sep 2017.  Results: At 3 months, women in the herbal group recorded a reduction in oligomenorrhoea (missing menstruation) of 32.9% compared with controls, estimated as a large effect. Other significant improvements were found for body mass index; insulin and luteinizing hormone; blood pressure; quality of life; depression, anxiety and stress; and pregnancy rates. This trial provides evidence of improved effectiveness and safety for lifestyle intervention when combined with herbal medicines in women with PCOS. (6)
J Matern Fetal Neonat Med Jan 2018.  Conclusions: Achillea millefolium (Yarrow) and Hypericum perforatum ointments reduce perineal pain level, redness, edema and ecchymosis of episiotomy wound, so it seems that consuming them was useful for episiotomy treatment. (7)
Wien Med Wochenshr Jun 2015.  The results confirm the efficacy of the three herbal active substances (St. Johns Wort, Gingko, Lavender) in elderly patients of ≥ 60 years of age. In anxiety, depression, and dementia, they thus represent efficacious and well-tolerated alternatives to synthetic drugs. (8)
Psychiatr Pol Feb 2014.  Results:  7 herbal remedies for which preclinical and clinical trials suggest their antidepressive influence have been identified: hypericum, lavender, borage, roseroot, chamomile, saffron and ginseng. For two of these, i.e. hypericum and saffron extracts, antidepressive effect in subjects with mild or moderate depression has been confirmed in controlled randomized clinical trials. (9)
Aging Ment Health 2014.  Conclusion: St.Johns Wort and Eleuthero is superior to placebo in terms of overall treatment effectiveness and safety. Both response rate and remission rate among patients treated with the plants plus Antidepressants were significantly higher than those treated with Antidepressants alone. (10)
BMC Complement Altern Med. Jan 2014.  Results: Acupuncture and herbal medicine (StJohns, Chaste, Gingko, Xiao yao san) treatments for premenstrual syndrome and premenstrual dysphoric disorder showed a 50% or better reduction of symptoms compared to the initial state.  (11)
Int J Psychiatry Clin Pract Nov 2013.  Results: In randomised, double-blind, controlled clinical trials the antidepressant effect of St Johns Wort was superior to that of the placebo and at least comparable to that of paroxetine (Paxil). The beneficial effect of St Johns is particularly pronounced with respect to the core symptoms of depression. (12)
J Cardiovasc Transl Res Jun 2013:  Results: Residual platelet reactivity improved with St Johns during the first month post-cardiac surgery. (13)
Jundishapur J Nat Parm Prod 2012.  Results:  St Johns Wort, added to TriCyclic Antidepressants (TCAs) significantly improves depression over TCAs alone.  It also eliminated the common side effects of sexual dysfunction and insomnia compared to TCAs alone. (14)
Australas J Dermatol May 2012.  Results: Three factors, erythema, scaling and thickness, were evaluated; all were significantly lower where the formulated ointment had been applied. Hypericum perforatum ointment applied twice daily may be effective in reducing scores in mild plaque-type psoriasis. (15)
J Drugs Dermatol Feb 2012.  Results: Use of the St Johns formulation was found to have no significant adverse effects and was well tolerated by participants. In patients with Herpes Simplex, statistically, odds for being affected by burning and stinging sensation were 1.9 times greater in the Acyclovir group in comparison to St Johns. Similarly, the odds of being affected by symptoms of acute pain, erythema and vesiculation were 1.8, 2.4, and 4.4 times higher in the Acyclovir group in comparison to the St Johns group. (16)
Got that?  Gods medicine relieved the symptoms of Herpes 2-4X better than Mans medicine.
BMC Psychiatry Aug 2011.  Conclusions: Analysis of the neurophysiological changes following the intake of St Johns, Passion Flower, and Valerian, balance revealed a similarity of frequency changes to those of calming and anti-depressive drugs on the EEG without impairment of cognition. (17)
Eur Neuropsychopharmacol Dec 2011.  Results: Several of the plants provide a high level of evidence, such as Hypericum perforatum for major depression, and Kava for anxiety disorders. (18)
Phytomedicine Jun 2011.  Results: In patients with Major Depression,Hypericum extract is more efficient in lowering the relapse and recurrence rates of responders, when compared to Celexa and placebo. In addition, duration of response was increased in the group treated with Hypericum extract. (19)
Menopause Mar 2010.  Conclusions: St John's wort can be used as an effective treatment for the vasomotor symptoms of perimenopausal or postmenopausal women. (20)
J Altern Complement Med Sep 2009.  Conclusions: These results suggest a potentially significant clinical application for Chaste/St Johns in PMS-like symptoms among perimenopausal women. (21)
Menopause Ap 2009.  Results: After 3 months of treatment, compared with the placebo group, women in the St. John's wort group reported significantly better menopause-specific quality of life and significantly fewer sleep problems. (22)
Can Fam Physician. 2007 Sep.  Results: Compared side by side to Paxil, a pharmaceutical prescribed for depression, and a placebo, St. Johns Wort decreased standardized depression questionnaire scores by 70% more than Paxil.  And while both improved depression better than a placebo, St. John's Wort showed results in a higher percentage of patients than Paxil (87 vs 60%) and remission (complete resolution) rates were higher. (71 vs 42%). (23)
J Clin Psychopharmacol Oct 2005.  Conclusion: St John's wort was significantly more effective than fluoxetine (Prozac). (24)
True Health shares St Johns Wort in True Mood Lift, True Viral Defense, and True Focus!
https://gettherightdiagnosis.com/wp-content/uploads/2017/07/true-health.png
0
0
Dr. Todd Stone
https://gettherightdiagnosis.com/wp-content/uploads/2017/07/true-health.png
Dr. Todd Stone
2020-08-20 13:34:22
2021-08-04 22:45:07
St John's wort - Hypericum perforatum