Eleuthero: Scientific Evidence
Consider with Immune deficiency, convalescence, inflammatory conditions (-itis), Adrenal Fatigue, Asthma, Candida, Hypoglycemia, jet lag, hypothyroidism, and menopause.  Use for fatigue, exhaustion, feeling stressed, and brain fog.  Attributes – Adaptogen, Immune Regulating.  Organ/Systems – Adrenal, Endocrine, Immune system.  Cautions – High blood pressure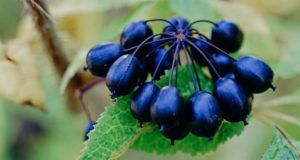 Randomized Clinical Trials (RCTs) are considered the highest form of scientific evidence.  A group of people with the same condition are divided into two groups, and randomly assigned to receive the medicine or a placebo.  Neither the patient nor the doctors know which group they are in until the results are assessed.
The following are RCTs in the National Library of Medicine listed when you search "Eleuthero double blind."
Nutrients Jan 2020.  Results: Eleuthero (and one other plant) significantly improved cognitive function, and reduced anxiety and uncertainty scores.  (1)
J Int Soc Sports Nutr Nov 2015. Conclusions: The multi-ingredient product's potential enhancement of Fatty Acid Oxidation during exercise, satiety, and Rate of Perceived Exertion reduction suggests an acute effectiveness of this medicine in improving the exercise-related fat loss benefits. (2)
Phytomedicine Dec 2015.  Conclusion: A Traditional Chinese Medicine with Eleuthero exerted significant antitussive (cough relief) effects in Upper Respiratory Infections (URIs). (3)
Pharmazie Ap 2015.  Results: Therefore, Eleuthero may have potential to reduce the severity of the alcohol hangover by inhibiting the alcohol-induced hypoglycemia and inflammatory response. (4)
J Int Med Res. Feb 2015.  Conclusions: Eleuthero significantly improved the symptoms of burnout after 12 weeks' use. (5)
Chin J Physiol Ap 2010.  Results: This is the first well-conducted study that shows that 8-week Eleuthero supplementation enhances endurance capacity, elevates cardiovascular functions and alters the metabolism for sparing glycogen in recreationally trained males. (5)
Phytomedicine Jun 2010.  Results: The subjects in the Eleuthero group quickly  gained improved attention and increased speed and accuracy during stressful cognitive tasks, in comparison to placebo. There was also a tendency of the medicine to reduce percentage of errors, which means better accuracy, quality of the work, and degree of care in the volunteers under stressful conditions. (6)
Korean J Physiol Pharmacol Feb 2009.  Results: In this population of patients with knee osteoarthritis, Eleuthero (with 2 other plants) was found to be safe, tolerable and effective for symptomatic improvement of pain and physical function. (7)
Phytomedicine Nov 2005.  Results: Both the clinical and laboratory results of the present study suggest that Eleuthero, Rhodiola, and Schizandra can be recommended in the standard treatment of patients with acute non-specific pneumonia as an adjuvant to increase the Quality Of Life and to expedite the recovery of patients. (8)
Phytomedicine Aug 2005.  Results: The significance of the results obtained in this study is discussed with respect to the efficacy of KanJang (Eleuthero, Echinacea, Adhatoda) for the treatment of acute respiratory infection and to the concept that multi-plant therapy offers higher efficacy compared with mono-plant treatment of such infections. (9)
Like True Cold/Flu Relief!  Several supportive plants to heal fast!
Phytomedicine May 2003: It works for Familial Mediterranean Fever too! (10)
Phytomedicine Oct. 2002: It worked for Upper Respiratory Infections including sinus infection. (11)
Arzneimittelforschung Oct 1987.  Results: The most salient feature in the Eleuthero group was a drastic increase in the absolute number of immunocompetent cells, with an especially pronounced effect on T lymphocytes, predominantly of the helper/inducer type, but also on cytotoxic and natural killer cells. In addition, a general enhancement of the activation state of T lymphocytes was observed. No side effects were observed during the trial or afterwards (observation period 6 months). (12)
Nutr Res Jul 2016.  Results: Thus, we demonstrate that Siberian ginseng exerts its potent anti-edema activity mainly by promoting lymphatic function. (13)
Aging Ment Health 2014.  Conclusion: St.Johns Wort and Eleuthero is superior to placebo in terms of overall treatment effectiveness and safety. Both response rate and remission rate among patients treated with the plants plus Antidepressants were significantly higher than those treated with Antidepressants alone. (14)
Cochran Database Syst Rev Jul 2009.  Results: Eleuthero was associated with a significant increase in the number of participants whose neurological impairment improved after acute ischemic stroke. (15)
J Bone Miner Metab 2009.  Results: This study suggests that Eleuthero supplementation may have beneficial effects on bone remodeling in postmenopausal women and that it has no significant adverse events. (16)
Biochem Biophys Res Commun. Oct 2008.  Results:  These results suggest that Eleuthero supplementation may have beneficial effects against oxidative stress (anti-aging!) and improve serum lipid profiles without subsequent side effects. (17)
Zhongguo Zhong Yoa Za Zhi Ap 2005.  Conclusion: Eleuthero can regulate the cellular immunity and factor, indicating that it can be used as an assistant drug to regulate the function of cellular immunity in the patients with lung cancer. (18)
Phytotherapy Res. Feb 2000.  Results:  On the basis of the present study the following conclusions were drawn: active components in Eleuthero affect cellular defence and physical fitness, as well as lipid metabolism. (19)
True Health offers Eleuthero in True Energy Boost, Calm Masculine Strength and Calm Feminine Vitality!
https://gettherightdiagnosis.com/wp-content/uploads/2017/07/true-health.png
0
0
Dr. Todd Stone
https://gettherightdiagnosis.com/wp-content/uploads/2017/07/true-health.png
Dr. Todd Stone
2020-08-19 21:54:12
2021-12-08 23:18:54
Eleuthero - Siberian Ginseng