Echinacea: Scientific Evidence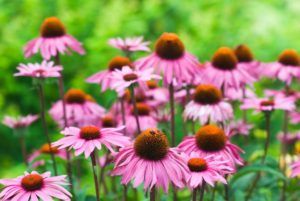 Randomized Clinical Trials (RCTs) are considered the highest form of scientific evidence.  A group of people with the same condition are divided into two groups, and randomly assigned to receive the medicine or a placebo.  Neither the patient nor the doctors know which group they are in until the results are assessed.
The following are RCTs in the National Library of Medicine listed when you search "Echinacea double blind."
Phytotherapy Res Mar 2020.  Results: These findings suggest that particular Echinacea preparations have significant beneficial effects on anxiety in humans. (1)
J Dermatol Sci Oct 2017. Conclusion: The investigated Echinacea extract shows great potential in alleviating cutaneous symptoms of Atopic Eczema, and by exerting remarkable anti-inflammatory actions and restoring the epidermal lipid barrier, it will be very likely a well-tolerated, powerful novel ingredient for the adjuvant therapy of Atopic Eczema. (2)
Phytomedicine Dec 2015.  Conclusion: A Traditional Chinese Medicine with Echinacea exerted significant antitussive (cough relief) effects in Upper Respiratory Infections (URIs). (3)
Curr Ther Res Clin Exp Ap 2015.  Results: Echinacea was slightly better than Tamiflu at relieving the symptoms of Influenza.  (4)
Elderberry worked 4 times faster than Tamiflu, which is in our Cold/Flu Medicine, along with Echinacea and a few others.
Wien Med Wochenschr Feb 2013.  Results: Echinacea is efficacious and safe in respiratory tract infections for long-term and short-term prevention as well as for acute treatment. (5)
Evid Based Complement Alternat Med 2012.  Results: Echinacea reduced the total number of cold episodes, cumulated episode days within the group, and pain-killer medicated episodes. Echinacea inhibited virally confirmed colds and especially prevented enveloped virus infections. Echinacea showed maximal effects on recurrent infections, and preventive effects increased with therapy compliance and adherence to the protocol. (6)
J Strength Cond Res Jul 2012.  Results:  These data suggest that Echincea supplementation results in significant increases in EPO (erythropoietin), VO2max, and running economy. (7)
Evid Based Complement Alternat Med 2012.  Results: Supplementation with Echinacea, if taken before and during travel, may have preventive effects against the development of respiratory symptoms during travel involving long-haul flights. (8)
J Am Dent Assoc. Oct 2011.  Conclusions: Topical treatment by means of the THPP (topical herbal periodontal patch) may be effective and safe in reducing topical gingival inflammation. (9)
Int J Gen Med Jan 2011.  Results: The mean percentage reduction in total symptom severity scores from baseline at days 4 and 8 was significantly greater in the Echinacea/Zinc/Vit.C group than in the placebo group, for the common cold. (10)
J Clin Pharm Ther Oct 2011.  Results: Echinacea, Zinc, Vitamin C significantly reduced exacerbations of COPD during upper respiratory infections in patients with COPD.  (11)
Eur J Med Res Sep 2009.  Conclusion: An echinacea/sage preparation is as efficacious and well tolerated as a chlorhexidine/lidocaine spray in the treatment of acute sore throats. (12)
J Altern Complement Med Dec 2005.  Results: Use of Echinacea was associated with a 28% decreased risk of subsequent Upper Respiratory Infections, in children. (13)
Phytomedicine Nov 2005.  Results: This study demonstrates the efficacy and safety of Echinacea, Wild Indigo, and Thuja in the treatment of URIs, and that its efficacy is dose dependent. (14)
Arch Pediatr Adolesc Med Mar 2004. Conclusion: A preventive effect of a product containing echinacea, propolis, and vitamin C on the incidence of respiratory tract infections was observed. (15)
J Clin Pharm Ther Feb 2004.  Conclusions: Early intervention with a standardized formulation of echinacea resulted in reduced symptom severity in subjects with naturally acquired upper respiratory tract infection. (16)
True Health features Echinacea in True Allergy Relief, True Cold/Flu Relief, True Lymph Cleanse, True GI Cleanse, and True Viral Defense.
DrStone
https://gettherightdiagnosis.com/wp-content/uploads/2017/07/true-health.png
0
0
Dr. Todd Stone
https://gettherightdiagnosis.com/wp-content/uploads/2017/07/true-health.png
Dr. Todd Stone
2020-08-19 01:21:03
2021-08-04 22:48:30
Echinacea - Coneflower