Andrographis: Scientific Evidence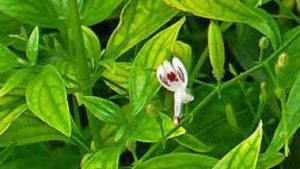 Randomized Clinical Trials are considered the highest form of scientific evidence.  A group of people with the same condition are divided into two groups, and randomly assigned to receive the medicine or a placebo.  Neither the patient nor the doctors know which group they are in until the results are assessed.
When you search Andrographis Double Blind on the National Library of Medicine database, you get 19 results.
Pharmaceuticals March 14, 2020. Results: Andrographis and Ashwagandha significantly improved cognitive performance in the d2-Test for attention and the concentration performance test after four weeks' treatment, and was positively correlated with increases in brain activity in the quantitative EEG compared with placebo during cognitive challenges. (1)
I think of Andrographis more for immune conditions, but Alzheimers is considered and inflammatory condition.  I think of Ashwagandha more for stress and cognition.  Doctors in Germany thought of putting these two together for mild cognitive impairment, which is precursor to Dementia.  They improved in just 4 weeks!  It was only 16 people, but with no side effects, why wouldn't you TRY it!?
Phytotherapy Research May 2019.  Results: Patients (103) treated with Andrographis showed a significant reduction in pain at days 28, 56, and 84 compared with a placebo group. WOMAC stiffness scores, physical function score, and the fatigue score showed a significant improvement compared with the placebo group.  At the end of the study, the quality of life (SF-36 questionnaire) and Functional Assessment of Chronic Illness Therapy (FACIT) scores showed significant improvements compared with the placebo group.  Overall, it can be concluded that Andrographis was found to be effective and safe in reducing pain in individuals suffering from mild to moderate knee osteoarthritis. (2)
BMC Neurology May 23, 2016. Results: MS Patients treated with Andrographis paniculata showed a significant reduction in their Fatigue score as compared to the placebo, equivalent to a 44 % reduction at 12 months. (3)
Annals of Gastroenterology April-June 2015 -Large, double-blind clinical studies assessing the most commonly used natural substances should urgently be conducted. (4)
That is a literature review, and what they reviewed was so promising that they felt it urgent to get the studies done!  But no money in Nature, so nobody is willing to spend money to do the studies.  A culture guided by the feminine wouldn't be so concerned about profit.  They would do anything to help their fellow man.
Inflammatory Bowel Disease:  Conclusions: Andrographis inhibits the development of chronic colitis by affecting early T-cell proliferation, and immune responses in a T-cell-driven model of colitis, presenting a unique mechanism of action. Our data suggest that Andrographis could be an attractive herbal therapeutic for inflammatory bowel disease.  (5)
This was in animal models (mice) but with no side effects, why are we holding back healing!?
Ailment Pharmacol Ther: Results: One hundred and twenty patients at five centres in China were randomised and dosed.  Clinical remission and response were seen in 21% and 76% of Andrographis treated patients, and 16% and 82% of mesalazine-treated patients. By colonoscopy, remission and response were seen in 28% and 74% of Andrographis treated patients and 24% and 71% of mesalazine-treated patients, respectively. There was no significant difference between the two treatment groups. (6)
Mesalazine is a pharmaceutical the earns 30-ish million per year, and retails for around $400 for a one month supply.  It runs the risk of liver and kidney failure.  You can get Andrographis for around $30 for a one month supply, and your side effects include a stronger immune system and better memory and focus.  And it works JUST AS WELL as mesalazine, an FDA approved treatment for colitis, in 120 Chinese patients.
Phytomedicine March 2010: Results: On between groups analysis, the Andrographis group showed significant reduction in overall symptom scores as compared to placebo group.  In both placebo and Andrographis treated groups, there were only a few minor adverse effects with no significant difference in occurrence (No more "side effects" than a placebo). The comparison of overall efficacy of Andrographis over placebo was found to be significant, and it was 2.1 times (52.7%) higher than placebo. The findings of this study revealed that Andrographis was effective in reducing symptoms of upper respiratory tract infection. (7)
Clinical Rheumatology August 2009:  Results: In Rheumatoid Arthritis patients, a significant improvement in joint tenderness, number of tender or swollen joints, total grade of tender or swollen joints, and quality of life health questionnaires was observed within the group with the active drug (Andrographis).  Moreover, it was associated with a reduction of rheumatoid factor, IgA, and C4.  (Inflammatory lab markers).  (8)
Planta Med. April 2004: Results: Collectively, the data suggest that Andrographis paniculata is superior to placebo in alleviating the subjective symptoms of uncomplicated upper respiratory tract infection. There is also preliminary evidence of a preventative effect. (9). Proof it works as a preventative. (9.5)
Phytomedicine May 2003: It works for Familial Mediterranean Fever too! (10)
Phytomedicine Oct. 2002: Huh? We already knew it worked for Upper Respiratory Infections including sinus infection. (11)
Phytomedicine Feb. 1996: Results: From the results evaluated it is quite clear that Andrographis decreases the subjective symptoms of common cold as well as shortening of the period of sick leave significantly. (12)
Journal of Med. Assoc. Thai. Oct 1991: Andrographis worked just as well as Tylenol for strep-throat pain relief.  (13)
True Health features Andrographis in True Cold/Flu Relief.
https://gettherightdiagnosis.com/wp-content/uploads/2017/07/true-health.png
0
0
Dr. Todd Stone
https://gettherightdiagnosis.com/wp-content/uploads/2017/07/true-health.png
Dr. Todd Stone
2020-08-07 04:08:42
2021-08-04 22:59:52
Andrographis Paniculata