Reishi: Scientific Evidence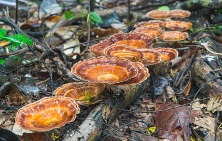 Randomized Clinical Trials (RCTs) are considered the highest form of scientific evidence.  A group of people with the same condition are divided into two groups, and randomly assigned to receive the medicine or a placebo.  Neither the patient nor the doctors know which group they are in until the results are assessed.
The following are RCTs in the National Library of Medicine listed when you search "Ganoderma double blind."
Int J Med Mushrooms 2018.  Results: Children in the group receiving a yogurt with Reishi presented a significantly higher absolute count of peripheral blood total lymphocytes (CD3+, CD4+, and CD8+ T cells) than that in the group receiving placebo. The interventions were safe and well tolerated. (1)
Pharm Biol. Dec 2017. Discussion and conclusion: The outcome of the present intervention demonstrated the antioxidation, anti-aging and hepatoprotective nature of GL by effectively curbing oxidative stress. (2)
Nutr Hosp. Nov 2015. Results: after the 6-week treatment period, Ganoderma lucidum significantly improved aerobic endurance, lower body flexibility, and velocity in patients with Fibromyalgia. (3)
Phytotherapy Res. Jun 2009. Results:Treatment with Reishi for patients receiving chemotherapy and/or radiotherapy may improve their immune function, improving their ability to fight off the cancer, as well as any secondary infections that could compromise their treatment and their health. (4)
Asian J Androl. Sep 2008.  Conclusion: The extract of G. lucidum was well tolerated and significantly improved Urinary Prostate Symptom scores. (5)
Arthritis Rheum Oct 2007.  Results: Pain score and patient's global score improved significantly only in the Reishi group. Conclusion: G lucidum (and three other plants) may have analgesic effects for patients with active RA, and were generally safe and well tolerated. (6)
Anesth Analg Aug 2005. Results:The use of Ganoderma lucidum preoperatively is unlikely to increase the risk of surgical bleeding in otherwise healthy patients. (7)
J Med Food 2005.  Results: These findings indicated that Reishi was significantly superior to placebo with respect to the clinical improvement of symptoms in neurasthenia (weariness, fatigue, headache, and irritability, associated chiefly with emotional disturbance). (8)
I'd call that the End Of Your MTHRFing Rope!
That is the end of Human RCTs, but look at the value witnessed with animal testing.  Remember, no danger to try!
Biomed Pharmacother. Aug 2020: Results:  Reishi significantly reduced the damage from our dumb ass medicine (chemotherapy). (9)
Int J Med Mushrooms 2020.  Results: Significantly reduced the kidney damage of another stupid ass medicine (hurtful antibiotic). (10)
Only a stupid man would declare war on disease. LMAO
Am J Transl Res. Jun 2020.  Results: Significantly inhibited tumor weight (colon cancer) and tumor volume.  In summary, GLE has potential to be developed as an anticancer agent against colorectal cancer. (11)
Drug Des Devel Ther. Jun 2020. Purpose: Drug-induced liver injury is the most common cause of acute liver failure.  Results: Reishi significantly decreased the liver damage from our hurtful medicines. (12)
Pharmacology 2020. Conclusions: All of these data illustrated that GLP could alleviate the activity and aggressiveness, block the cell cycle, and promote the apoptosis (destruction) of cervical cancer cells. (13)
Integr Cancer Ther. Dec 2019. Results: G lucidum inhibited the proliferation, migration, and invasion, and induced apoptosis (destruction) of human osteosarcoma. (14)
There are many studies that conclude that Reishi significantly reduces the side effects of Chemo and Radiation, while significantly improving outcomes.  A patient of True Health used True Cancer Fighter with Reishi while being treated, and ALL the side effects were resolved, and her hair grew back!  While receiving Chemo/Radiation!!
Reishi is an ingredient in True Allergy Relief, True Clear Skin, True Energy Boost, True Masculine Strength, and True Tissue Heal, which is our solution for leaky gut!
-DrStone
https://gettherightdiagnosis.com/wp-content/uploads/2017/07/true-health.png
0
0
Dr. Todd Stone
https://gettherightdiagnosis.com/wp-content/uploads/2017/07/true-health.png
Dr. Todd Stone
2020-08-14 20:41:46
2021-08-04 22:53:28
Reishi - Ganoderma Lucidum