Rhodiola: Scientific Evidence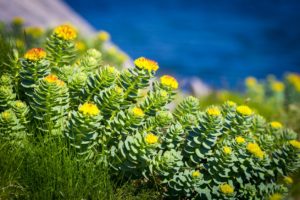 Randomized Clinical Trials (RCTs) are considered the highest form of scientific evidence.  A group of people with the same condition are divided into two groups, and randomly assigned to receive the medicine or a placebo.  Neither the patient nor the doctors know which group they are in until the results are assessed.
The following are RCTs in the National Library of Medicine listed when you search "Rhodiola double blind."
Phytotherapy Res. June 2020.  Results: Show an improvement of mental speed and moreover, suggest improved mental resources. (1)
Pharmaceuticals May 2020. Results: The menopause symptom relief effects of Rhodiola and Black Cohosh were significantly superior in all tests to the effects of Black Cohosh and placebo after their repeated administration for 6 and 12 weeks. (2)
Front Pharmacol Mar 2020.  Results: A total of 18 RCTs involving 1,679 patients were included in the meta-analysis. Adjuvant treatment with Rhodiola significantly decreased ≥80% reduction in the frequency of angina attacks. (3)
J Affect Disord Mar 2020. Conclusions: It is concluded that the Rhodiola capsule shows anti-depressive potency in patients with depression disorder. (4)
Nutrients Oct 2019. Results: Improvement in body composition profiles were significantly greater in the Rhodiola/Cordyceps group (body weight, BMI, upper extremity fat mass, lower extremity muscle mass, trunk fat mass) compared to the placebo group after training. (5)
J Sport Health Sci. Oct 2018. Results: Rhodiola rosea ingestion shortened reaction time and total response time. Moreover, a greater relative increase in the number of correct responses was observed in Rhodiola group as compared to the placebo group. (6)
Phytomedicine June 2016. Conclusions: Rhodiola rosea demonstrates multi-target effects on various levels of the regulation of cell response to stress, affecting various components of the neuroendocrine, neurotransmitter receptor and molecular networks associated with possible beneficial effects on mood. (7)
PLoS One Jun 2015.  Results: Rhodiola tended to protect against acute exacerbation of COPD and significantly improved tidal breathing and ventilation efficiency, in patients with COPD. (8)
Phytomedicine Mar 2015. Conclusions: Although R. rosea produced less antidepressant effect versus sertraline (Zoloft), it also resulted in significantly fewer adverse events and was better tolerated. These findings suggest that R. rosea, although less effective than sertraline, may possess a more favorable risk to benefit ratio for individuals with mild to moderate depression. (9)
Get True Stress Resilience and True Mood Lift, and I bet you experience more antidepressant effect than Zoloft.
High Alt Med Biol. Sept 2004.  Results: After 2 weeks of altitude training, compared with Placebo group, the exhaustive run time was markedly longer and the decline of parasympathetic (PNS) activity was significantly prevented in Rhodiola/Cordyceps group. (10)
Complement Ther Med Aug 2014.  Conclusion: Rhodiola formulations may have a positive effect on treating Ischemic Heart Disease alone and in combination with Routine Western Medicine. (11)
Holistic Nurse Pract Ap 2014.  Results: Rhodiola rosea is found to be effective in the treatment of stress-related fatigue. (12)
J Strength Cond Res. Mar 2013.  Results: Rhodiola rosea ingestion significantly decreased heart rate during the standardized warm-up, and subjects completed the Time Trial significantly faster after R. rosea ingestion. (13)
Phytomedicine Jun 2010.  Results: Showed a significant difference in attention, speed, and accuracy  between the two treatment groups. The subjects in the Rhodiola/Eleuthero/Schizandra group quickly (two hours after ingestion) gained improved attention and increased speed and accuracy during stressful cognitive tasks, in comparison to placebo. There was also a tendency to reduce percentage of errors, which means better accuracy, quality of the work, and degree of care in the volunteers under stressful conditions. (14)
Phytotherapy Res Aug 2009.  Results: After supplementation, a significant decrease concerning the experienced level of fatigue in the Rhodiola group was observed compared with the placebo group. (15)
Rhodiola is an ingredient in True Stress Resilience, True Heart Health, True Fem Vitality, True Addiction Relief, and True Asthma Relief!
https://gettherightdiagnosis.com/wp-content/uploads/2017/07/true-health.png
0
0
Dr. Todd Stone
https://gettherightdiagnosis.com/wp-content/uploads/2017/07/true-health.png
Dr. Todd Stone
2020-08-13 23:35:24
2021-08-04 22:54:19
Rhodiola Rosea