Research Proves True Menopause Ease resolves every BAD symptom of Menopause!
On our conditions page, I share the various approaches of six healing sciences for Menopause, but True Menopause Ease is the best resource I have found for relief of menopause symptoms.
The plant medicines that make up True Menopause Ease: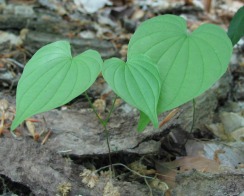 RESULTS: At 6 months, the women who received Wild Yam showed improvement in every clinical symptom investigated, and a significant improvement at 12 months.  The Greene Symptom Scale is a survey that includes anxiety, depression, irritability, insomnia, tiredness, headaches, body aches, hot flashes, and low libido.
 Wild Yam also had a positive effect on hormone balance.  (

1

)  "
Results show that Wild Yam is useful for relief of symptoms of Menopause."
And instead of side effects, you get side benefits.  Proven by Randomized Controlled Trials.  When you take Wild Yam, it significantly improves cognitive function, memory and inflammation levels, plus has "anti-aging" properties.
And that is just one of six truly amazing plants.
In Italy, Angelica improved all those "bad symptoms" in just four weeks.  It also lowered cholesterol and blood pressure, therefore, Angelica is  a plant worth considering! (2)
In Germany, doctors compared Black Cohosh  to estrogen replacement and a placebo.  Black Cohosh improved bone density just as well as estrogen replacement, and vaginal dryness better than a placebo, but not as well as estrogen.  However, Estrogen Replacement Therapy was proven by the Women's Health Initiative to increase heart attack, stroke, dementia, and breast cancer.
Black Cohosh was reported to have no side effects.  (3)  Clearly, Black Cohosh is another of Mother Nature's gifts for menopausal relief.
Side benefits of Black Cohosh include significantly improving sleep, fibroid cysts, and your body's response to stress!
Black Cohosh and Rhodiola combined works even better than Black Cohosh alone, on a physical level, but remarkably on the mental health level, improving mood, attitude, and happiness! (3.5)
In India, Doctor's had concern over the dangers of Estrogen Replacement Therapy, so they gave Fenugreek a try. 
Fenugreek increased estrogen levels by 120% in 90 days, and significantly relieved menopause symptoms, especially hot flashes.   (4) 
In London, Doctor's searched medical journals for "Ginseng and menopause," and discovered that Ginseng doesn't work well for menopausal symptoms, but it seems to significantly increase Libido and "sexual arousal."   (5)  That includes vaginal lubrication, giving True Menopause Ease an advantage over Estrogen Replacement Therapy in every symptom category, with no side effects.
Fenugreek side benefits include significantly improved blood sugar control, anxiety and physical strength, increased milk production in nursing women, lung function, and even improved Parkinson's Disease symptoms!  With no side effects!
The research I shared are double blinded and placebo controlled, the highest standard for scientific evidence.
This plant medicine contains scientifically proven relief of Menopause symptoms, in addition it increases estrogen naturally.  A plant that balances hormones, plus lowers cholesterol and blood pressure.
Visit our online store to buy a bottle of True Menopause Ease, which is a 30 day supply.
If you buy 2 bottles, you'll get free shipping.
https://gettherightdiagnosis.com/wp-content/uploads/2018/04/thelmanlouise.jpg
788
1400
Dr. Todd Stone
https://gettherightdiagnosis.com/wp-content/uploads/2017/07/true-health.png
Dr. Todd Stone
2018-01-24 01:21:10
2022-07-06 21:47:45
Greater Comfort and Ease Through Menopause.