Defeat Fatigue with Vitality
The plants and mushrooms in True Energy Boost are adaptogens.  Adaptogens help your body adapt to stress and restore vitality.  Vitality lifts exhaustion and fatigue, bringing strength and vitality.
Cordyceps mushroom is one of the ingredients. Belief is that the use of these mushrooms brought about improvements in quality of life. This is in patients with chronic heart failure,7 kidney failure,8 and chronic lung disease.9 Cordyceps gained world attention in 1993 when Chinese female runners achieved records in 1500 m, 3000 m, and 10,000 m events.10  Their coach attributed their success to a healthy diet supplemented with Cordyceps.
In this study, healthy volunteers, 50-75 years old, took either Cordyceps or a placebo for 12 weeks.  They used a stationary bike to evaluate Metabolic Threshold and Ventilation Threshold.
They were hooked up to machines to assess, but as I understand, metabolic threshold is when your muscles start to burn and ventilation threshold is when you can't catch your breath.  In either circumstance, you have to stop pedaling.
Comparing the first test to the one at 12 weeks, the old timers that took Cordyceps were able to push their muscles 10% farther and their lungs 8.5% farther.  The old timers given a placebo continued to get older, and lost 4% and 32%, respectively.
True Energy Boost is a little more expensive than the rest of our medicines, but what is it worth to reverse the aging process!?
Each bottle is a 30 day supply, and it's still half the cost of one Tamiflu pill.
Our vitalizing medicine also contains Reishi mushroom.  In this study, women with Fibromyalgia were given Reishi or a plant medicine known to contain powerful antioxidants.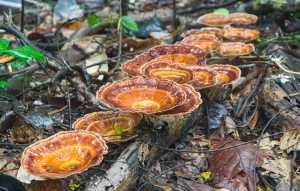 After 6 weeks, Reishi "significantly improved aerobic endurance, lower body flexibility, and velocity.  The women taking the other plant medicine showed now significant improvement in any physical test."
In this study, two doses of Eleuthero and Cayenne increased fat burning by 28%.
I've also included both American and Korean Ginseng in True Energy Boost.
In this study, patients with chronic fatigue were given Ginseng for 4 weeks.
Compared to a placebo, Ginseng increased energy levels and recovery from fatigue 20% better.  Ginseng has also been scientifically proven to reduce wrinkles, improve dry eye syndrome,  and increase insulin sensitivity. This  means better energy production!
Studies show ginseng to increase focus and decrease ADHD symptoms in kids. It also decreases fatigue in cancer patients.
I shared all the medicines that Mother Nature offers for Cancer, in this blog.
Studies show ginseng will increase energy in medically diagnosed chronic fatigue syndrome patients, 600% more than a placebo.
Another proven benefit of Ginseng is to make men last longer (premature ejaculation), significantly, by the way, and significantly increase female sexual arousal.
Geez, it sure sounds like God offered a plant that increases thriving and expanding.  Significantly.  True Health offers the most carefully harvested and extracted version of thriving and expanding in our online store.
I would have called it True Vitality Boost, but people don't seem to search for vitality, however many search for energy, so I named it by "google search counts" so you could more easily find it.
https://gettherightdiagnosis.com/wp-content/uploads/2012/07/heal.jpg
640
1100
Dr. Todd Stone
https://gettherightdiagnosis.com/wp-content/uploads/2017/07/true-health.png
Dr. Todd Stone
2018-03-28 01:56:03
2021-08-20 21:28:33
True Energy Boost