Relieve Shingles Symptoms in days!
Natural Remedies for Herpes and Shingles!
Many patients have called saying they're having a shingles flare, and I'd send them a bottle of True Shingles Heal.  Every single person reported relief of their Shingles symptoms in days.   Other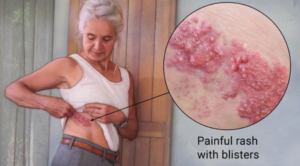 patients reported that this shingles treatment resolved herpes flare ups, both HSV1 (cold sores) and HSV2 (genital herpes)!  You must have these natural remedies for chronic viruses, including Epstein Barr Virus, or EBV, which is the cause of Mono!
I've never felt shingles, but I understand that it is a very painful rash.  Medical Doctors prescribe Acyclovir.   This study says that Acyclovir was no better than a placebo for Post-Herpetic Neuralgia.  (1)
Mother Nature's Shingles Treatment.
Reishi Mushroom has been tested for effectiveness of HPV (Human Papilloma Virus) and showed an 88% clearance rate after 2 months.  (2)  And for Shingles symptoms:  "Pain relief started within a few days of intake and was almost complete within 10 days. All cases responded quickly to treatment and no patient developed post-herpetic neuralgia (PHN) after more than one year of follow-up."  (3)
Licorice Root is the most potent inhibitor of RotaVirus, which causes chronic diarrhea, and Epstein Barr Virus (EBV), which causes Mononucleosis, weakness and exhaustion.  (4)
The second most powerful anti-viral in the plants tested was Roobios!
The third most potent anti-viral was Lemon Balm, which is in our plant based shingles treatment, that works for all herpes viruses!  Here's another study that confirms the value of Lemon Balm in treating HSV1. (5)
"Licorice, Cinnamon, Green Tea and Selenium are more effective and safer than Acyclovir and Valtrex for genital and oral herpes, the leading drugs in the category." (6)
More Natural Remedies for Shingles, and other chronic Viruses.
Cinnamon and Eucalyptus have been shown to effectively reduce viral titers of H1N1 Influenza Virus and HSV1 by greater than 99%.  (7)
Olive Leaf  "exhibits antiviral activity against viral haemorrhagic septicaemia rhabdovirus (VHSV)."  Olive leaf also inhibits infection and cell to cell transmission of HIV.  (8)
Natural Remedies for Herpes and HIV!
Holy Basil "exhibits a broad spectrum of antiviral activity," including herpes and hepatitis." (9)
Plus, Holy Basil has shown promising antiviral properties against the H9N2 Influenza virus! (10)
St. John's Wort is effective against HIV.  In a lab setting, not yet tested on humans, but with no known side effects, why wouldn't you give it a try? (11)
Well, one side effect.  Studies have shown that St. John's Wort is more effective in treating depression than Paxil, but I'd call that a side benefit!! (12)
Valerian is effective agains Hepatitis C Virus.  And it's an amazing nerve relaxer for calming the pain of Shingles.  It's included in True Sleep as well, to relax your brain and body, and drift off to sleep. (13, 14)
True Shingles Heal is one of the safest and most effective natural remedies for Shingles, EBV, HPV, HSV1, HSV2.  And it works  fast!  With no side effects, it can't hurt to try Mother Nature.
Doctor's willing to take a look at Nature and her Medicine report that her medicine works well for every chronic virus.
Several of my female patients reported that their genital herpes completely resolved while taking True Shingles Heal!
You can get True Shingles Heal, without a prescription, in our online store.
More Natural Remedies for Herpes Simplex and Shingles!!
"We performed a randomized double-blind controlled trial to compare the efficacy and safety of a multi-strain probiotic and Acyclovir in women patients with recurrent genital herpes simplex virus type 2 (HSV-2) infections. Eighty-one patients enrolled in the study were being treated with multistrain Lactobacillus brevis one vaginal capsule every 12 h and oral acyclovir 400 mg twice daily for 6 months.   No important differences were identified between acyclovir and probiotic for the primary and secondary efficacy endpoint, resolution of episode, lesion healing time, and percentage of pain.  Acyclovir patients reported significantly more side effects."  (15)
Study number 6 also reports that Aloe Vera gel effectively inhibited HSV2 or genital herpes!  If I had problems with any chronic virus, especially shingles, cold sores or genital herpes, I'd stock up on natural remedies for shingles and all herpes viruses.  
https://gettherightdiagnosis.com/wp-content/uploads/2018/04/batgirls.jpg
466
900
Dr. Todd Stone
https://gettherightdiagnosis.com/wp-content/uploads/2017/07/true-health.png
Dr. Todd Stone
2018-04-05 03:57:58
2021-08-20 21:19:54
Natural Remedies for Shingles Symptoms, EBV, and HSV1 or HSV2